Show Up in Search Engines. Rank Well. Get Noticed.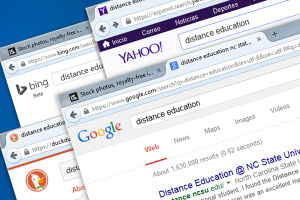 Is your website showing up in search results for significant keywords? Are you getting the level of exposure you need to attract visitors? Is the right information showing up?
Competition for those first couple of pages of search results is outrageous. If your site is not strategically optimized to rank, your site could get buried.
Verified Studios knows SEO marketing strategy for the higher education and corporate markets. We build SEO best practices into site architecture and content creation to help you show up on Google, Yahoo and Bing search pages. We can also help you optimize existing content for search engines.