Overview
Appalachian State University is well established and regarded, but the university felt both its online presence and marketing strategy needed modernization. In addition to relying on legacy advertising (billboards, brochures) instead of digital marketing, App State Online's site was uninspiring for prospective students looking for a forward-thinking online educational experience. 
The existing site provided excellent resources for current students but was tricky for prospective students to navigate. App State Online needed to attract prospective students to an appealing and engaging sales funnel that answered essential questions and provided a streamlined way to apply. 
Appalachian knew it was essential that their online website presence reflect the high quality of their online programs. Naturally, an exceptional online experience sparks enthusiasm for future participation as an online student. Conversely, a difficult, dry or frustrating experience discourages prospective students from even considering enrollment. 
App State Online needed a compelling, user-friendly web presence with a prospective-students-first architecture.
The Challenge
The existing website was structured around the needs of current students; prospective students had to hunt through the site to find the information they needed. The shift to prioritizing prospective students (without neglecting current students) required a shift in mindset, site architecture and layout. 
The need for a modernized online experience extended beyond the website. App State Online recognized the need to embrace modern marketing strategies as well. Thus far, the stakeholders had resisted digital marketing, which meant they were missing out on a huge share of the market. It only made sense that an online program should advertise online, but stakeholders had to be convinced investment in digital marketing would pay off.
App State Online was the first division of the university to invest in online advertising, so it was a challenge to get stakeholders to think differently about this strategy. The stakeholders were more comfortable with traditional marketing methodologies such as billboards and flyers, but the case was made for PPC (Pay-Per-Click) advertising and a wholehearted investment in the site redesign.
Initial Problems
The website redesign was challenging, as it was a considerable shift in mindset and site organization to change from a current student focus to a prospective student focus.
App State Online utilizes a different type of content management system (Bootstrap). This meant the team could not lean on existing web infrastructure.
Several stakeholders had concerns that investment in the new site and diverting money from legacy advertising to PPC would be a mistake. The need to prove tangible and significant ROI was high.
The Verified Solution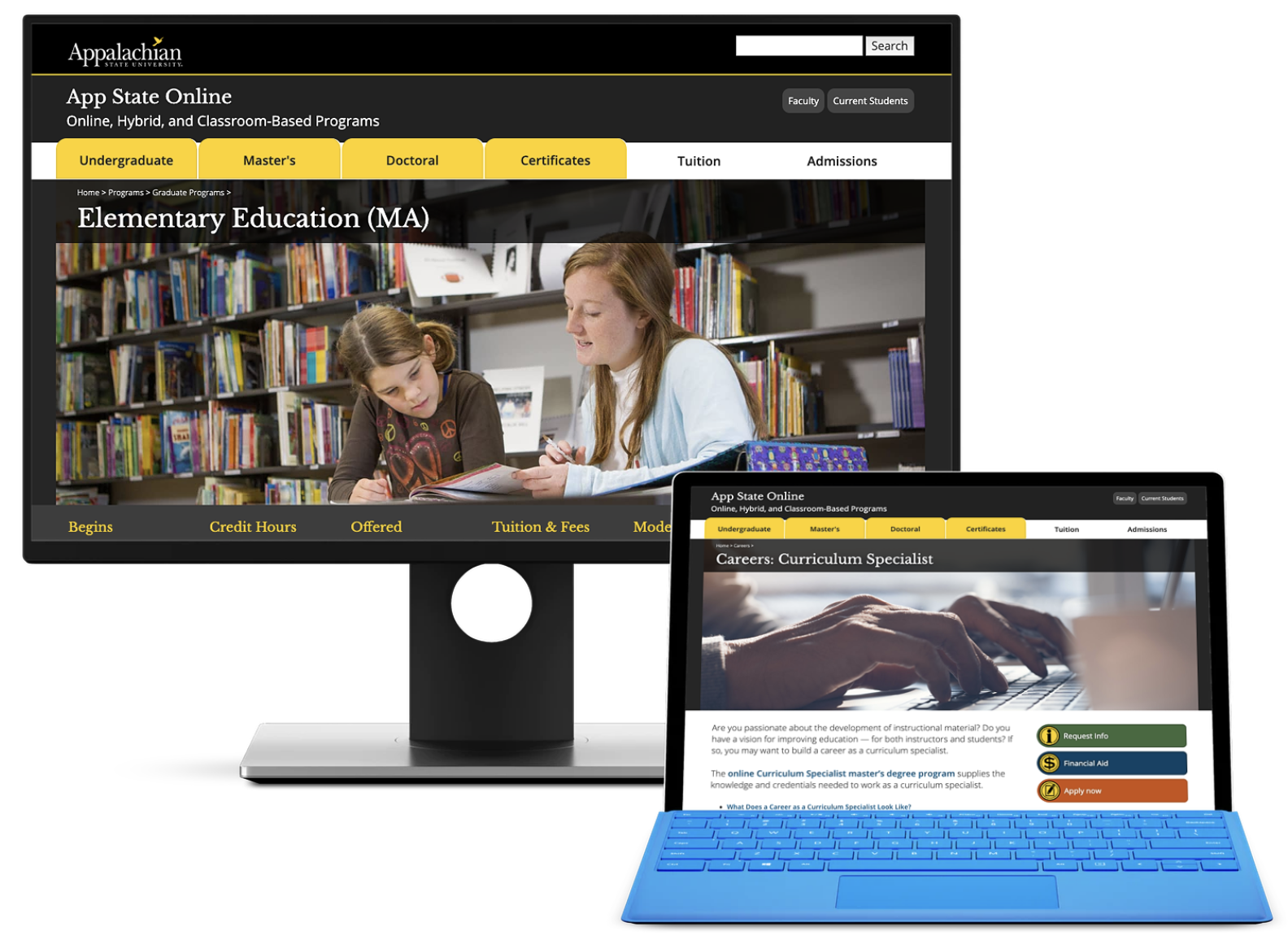 Verified Studios provided wireframes and guidance, and the Appalachian State University Communications department built the site. To accommodate the problem of too much competing information, we provided a virtual front door for prospective students and a back door repository for current students. Collaboration ensured stakeholders knew their concerns were heard and addressed. 
After the site redesign was complete, we added an additional component to a select few programs that were chosen for special attention: Careers pages were crafted for these programs. The careers content showcases how the programs will provide students the credentials necessary for career advancement, but the content has a two-fold purpose, as the careers pages also increase the number of relevant keywords for which the programs rank. This improved SEO resulted in prospective students searching the web for ways to advance their careers and find the information they need: 
Information about desired careers, including salary and job demand statistics

A clear path connecting degree programs to the credentials required for career advancement
Our Process
The site redesign and build-out was a collaborative project; Verified Studios provided the wireframes and architecture; Appalachian completed the build-out. 
Careers pages were then added to improve SEO and provide a clear Program-to-Career pathway for prospective students. 
Because stakeholders were nervous about digital marketing, we began with a pilot PPC marketing campaign. Priority programs were given special attention; PPC campaigns rooted in proven SEO practices were carefully executed and tracked.
As the pilot proved to be successful, more funds were diverted from legacy advertising methods (billboards, brochures, mailing campaigns) to digital marketing.
The Results
Modernizing the site and the marketing strategies has gotten results. Targeted program-level marketing campaigns have increased marketing effectiveness and resulted in program success.
The new streamlined prospective-student to accepted-applicant pathway has changed the University's approach to serving both prospective and current student populations.  
Finally, the website design that resulted from this collaboration was used in a redesign of the university's website, possibly the ultimate compliment to a job well done.
From 2018-2020, program-specific digital marketing campaigns were designed, executed, managed and analyzed by the Verified Studios team. Monthly reports resulted in increasingly effective keyword, landing page content, and ad optimization, culminating in results where App State Online was turning away students. One of our primary client contacts, Dr. Terry Rawls, joined our team upon his exit from App State Online, and now Terry is one of our partners.
Client Quote:
"Verified Studios was great to work with. They were very responsive to inquiries, and collaborative in their work process. For example, we came to them with rough sketches and ideas, and Verified Studios fleshed out wireframes and actionable plans. We are very happy with the results we've gotten thus far and look forward to seeing what happens as we expand our work with them."
– Matt Tate, App State Online Marketing Coordinator