Overview
Pfeiffer University, located near Richfield, North Carolina, is a small university with a lot going on. With undergraduate and graduate programs, plus a highly active athletics department, the school competes with much larger colleges and universities in the region.
The existing site had too much content, and the University needed to consider the desires of multiple stakeholders while updating the look, feel, message and content.
The Challenge
Pfeiffer University's website had too much information stuffed into a dated content management system and an overwhelming number of stakeholders fighting for a say in the improvement process.
Pfeiffer knew that its programs appealed to student athletes; in fact, 60 to 70 percent of its incoming undergraduate population was student athletes. Leaders wanted the new site to speak to the needs of this majority, but they also wanted to broaden their appeal to increase the enrollment of non-athlete students. Because of this, content needed to speak to a wider range of prospective students, and efforts needed to begin to attract different audiences.
To add even more pressure, the launch of the new Pfeiffer site was tied to the arrival of the university's new president and defined by the client as "written in stone."
Initial Problems
Too many stakeholders and competing ideas.
Needed to reach an extended audience range.
Had a strict launch deadline with no possible exceptions.
The Verified Solution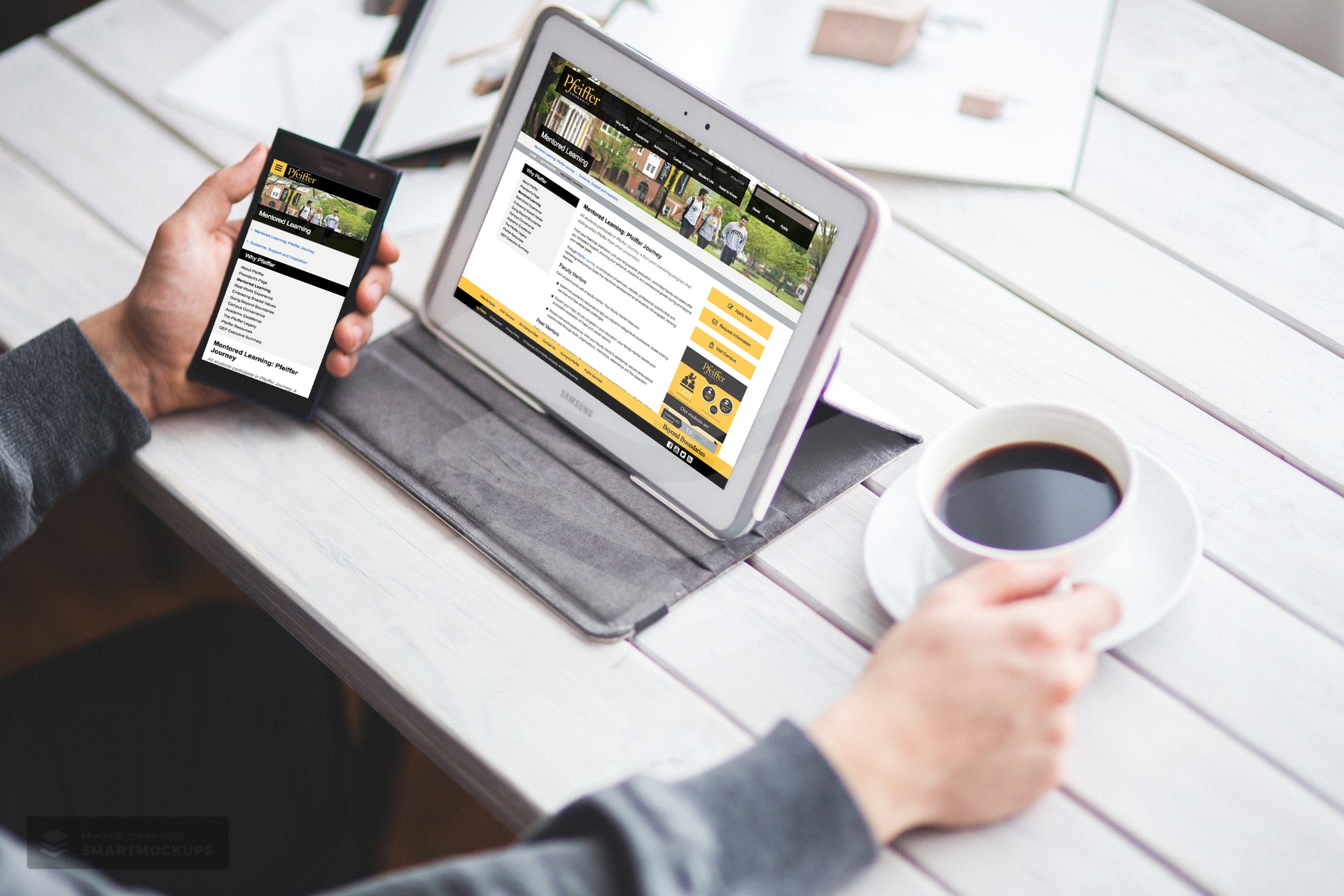 Verified Studios approached the project first with a commitment to project management best practices: building consensus, communicating effectively and keeping the final product's audience in mind. The university brought together stakeholders, and Verified Studios helped this eight-person committee identify overarching goals — increased site traffic, higher quality applicants, more diversity and improved matriculation rates — to create a unified vision and build collective buy-in.
Verified Studios also implemented a structured and streamlined use of productivity tools to maximize the efficiency of project management from start to finish. This meant setting up and utilizing weekly project management meetings with Zoom, a cloud video conferencing platform, Basecamp and Trello for asking questions and tracking progress, respectively, and Dropbox and Google Drive for sharing media and content files.
For the actual new web design, Verified first set out to reduce the number of pages by a third by excluding the redundant, outdated and unnecessary. Then, content was rewritten to be up-to-date and optimized, following extensive SEO research. Additionally, the architecture of the site was improved by reorganizing and moving pages and content that belonged on other microsites for an improved user experience for prospective students.
Our Process
Build a site that had all the crucial elements for faculty, while keeping the end user at the forefront of the design purpose.
Stick to a prescribed methodology for processes in the site build, including editorial, communication and quality assurance.
Create a committee that included members from admissions, alumni, student life and faculty to build a consensus to move forward.
Reduce the number of web pages by 33 percent, increasing the quality of the content and creating a more efficient and effective site.
The Benefits
Verified delivered a sleek, modern, search engine optimized site that earned praise from the marketing committee as well as the new president. It replaced an ineffective, hard-to-navigate architecture with a new look, crisp writing and a user-friendly interface. The new website sees an average of 15,000 users per month with 338,000 pageviews between January 1 and May 1, 2017 alone.
Pfeiffer University's new site is better positioned to grow the student body of non-athletes and to appeal to a wider range of prospective students. Their modern content management system gives them the tools to keep the site updated and make as-needed changes.
With the new processes established, stakeholders at Pfeiffer are better equipped for change management in the future and have efficient ways of conducting inter-departmental improvements to reach consensus. Communication within the Pfeiffer team has improved, and they have a better sense of how to work together to further the vision of their university.