Overview
The University of North Carolina is a higher education institution in Chapel Hill with a total student enrollment of almost 30,000. Known for its sports as well as academics, the university's Kenan-Flagler Business School is highly ranked with a reputation known throughout the U.S.
The UNC Business Essentials online certificate initiative was launched as a way to expand the Kenan-Flagler Business School's reach to more students who wanted to obtain crucial business skills, without enrolling in a business program. Through ube, students in all fields can have advantages for placement in management roles, potential higher salaries and more career options.
The Challenge
The course delivery system that ube was using was outdated, cumbersome and limited. The team behind the program wanted a new learning management system that contained their old content, but had greater capabilities than the one they were using.
ube needed a full scale content migration and set-up of the new LMS, and they needed it quickly, just in time for the next group of enrolled students. As content was migrated, it also needed review and edits to improve the overall quality of the old content without needing to produce entirely new content.
The new LMS should contain components for content delivered in a variety of formats, including narrated slide decks, tabbed topics, PDFs and self-grading tests. For tests alone, 40 quizzes with 5-10 questions each and 5 exams with 20 questions each needed to be added with questions as standard self-graded options of multiple-choice, matching and T/F question types. 
Initial Problems
Needed new, better Learning Management System.
Needed all content edited and migrated into the new LMS.
Needed the entire project completed by deadline.
The Verified Solution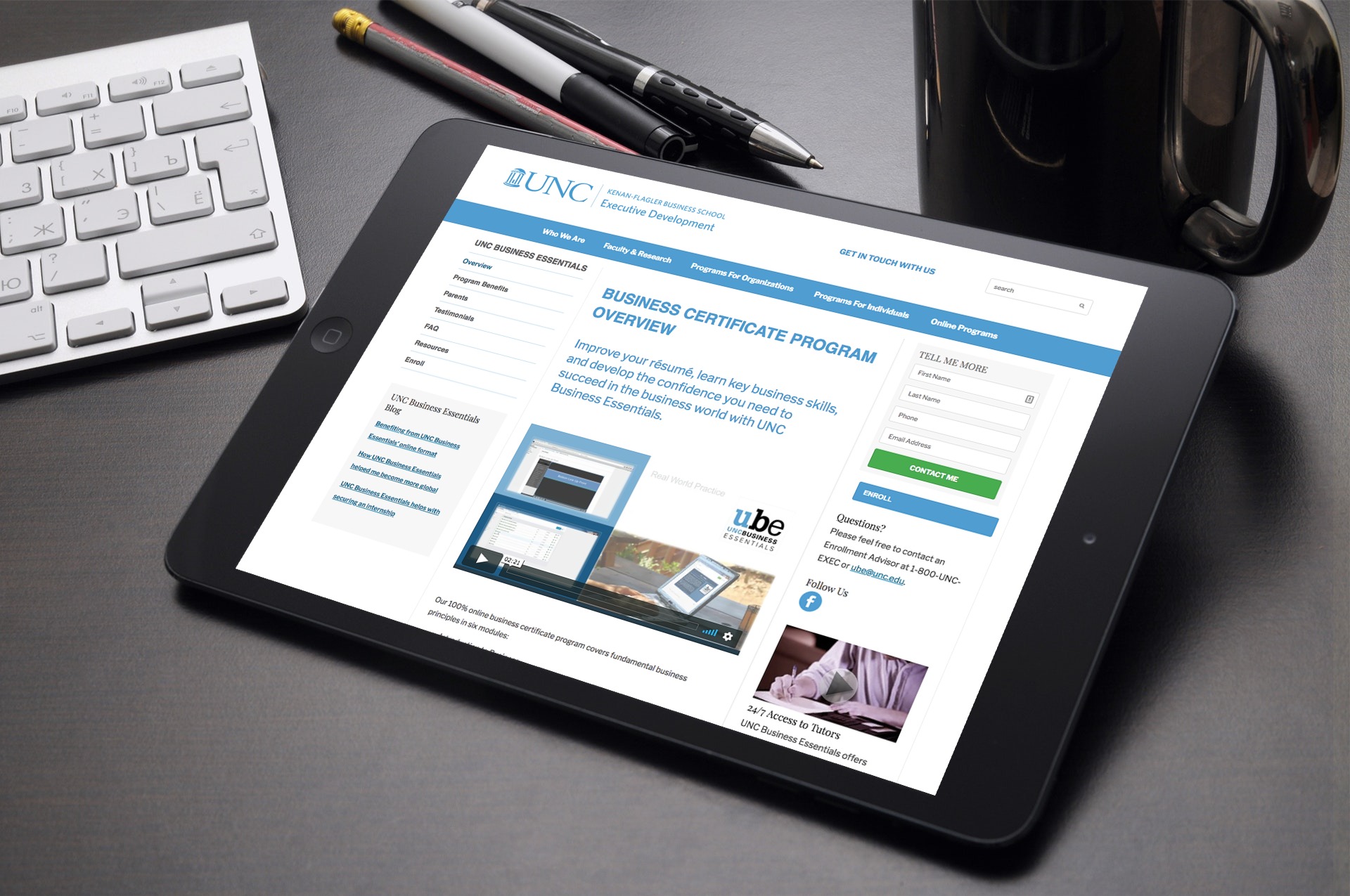 Verified Staff had its kickoff meeting with UNC/UBE October 30, 2014. The proposed date for delivery of migrated content was Dec 19th.  The plan was to have a QA period on the client side.
The project grew in scope during the seven weeks of work; additions included a change in video presentation software; a customized video intro, the need to edit existing videos and an additional module addendum.
Verified presented a detailed timeline and project plan which included weekly meetings with the client.  Verified adhered tightly to this plan, and the project was delivered on time and without overruns.
Verified team utilized Dropbox for file sharing, Basecamp for continuous exchange of information including meeting notes and feedback gained from calls.  Trello boards were customized for the purpose of keeping the intensely detailed and sequence-dependent work moving efficiently between the team of instructional designers, content developer, and project managers. Along with Google Docs, we provided maximum transparency for the client.
Our Process
Implementation of new LMS, Canvas, with full content migration, edits and improvements.
Continuous contact with UBE team utilizing project management best practices.
Deployment of a full range of project management tools to ensure timely delivery.
Quality assurance to ensure client and student satisfaction with the new system.
The Future Opportunities
With the new system, the UNC team can continue to make improvements and update the course as need be. The new system, plus the process created by Verified Studios will help the UNC team to manage content and potential future migration projects in a better, more organized manner.
Because of their satisfaction with working with Verified Studios, there is also the potential for them to work with us again in the future on other UNC Kenan-Flagler Business School content migration or web projects.
Client Feedback