Overview
You'll know when you're working with a Wake Forest alum because these passionate leaders live a dedication to getting results with integrity, no matter how great the challenge.
While the value of its graduates was undeniable, this attention-worthy school had a problem: their website didn't communicate this reputation, causing it to fade into the shadows cast by other top 30 business schools.  
The Challenge
The Wake Forest University School of Business website had a problem: too much information stuffed into a dated content management system and an overwhelming number of stakeholders fighting for a say in the improvement process. The site's aesthetic was lacking, and the university had just invested a large sum into a new branding initiative that was not yet evident on the outdated site.  
Initial Problems
Outdated aesthetic and messaging needed to be revamped to match the new brand through a rearchitecting of information and content.
Dated site was not responsive or functionally competing with other business school sites.
Multiple stakeholders fighting for a say.
The Verified Solution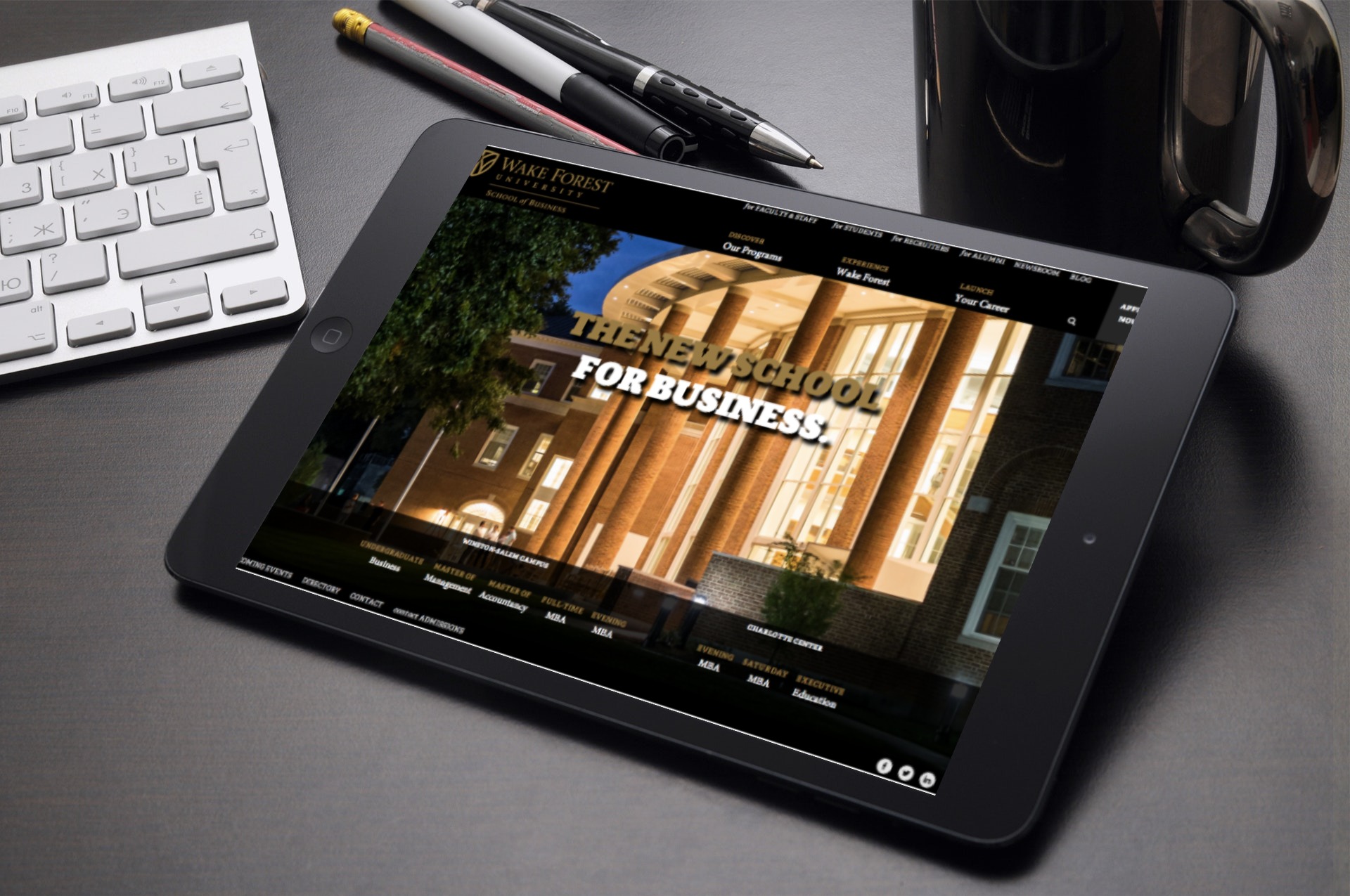 Our Process
Interview dozens of students, alumni, staff and administrators to identify the unique challenges offered at Wake Forest: Tackling a rigorous academic program. Growing in character. Learning conceptual knowledge. Mastering practical competence. 
Research the online brand and messaging strategies of other top 30 business schools, extracting five axes of competitive differentiation: prestige, people, programs, place and principle. The combination of these two steps resulted in a plan to make the new site stand out from the competition.
Re-architect the information and content organization of the site, resulting in the parsing of total page count to under 1,000 pages and the creation of 250 new pages of content.
Move the site from ColdFusion to WordPress, migrating 750 pages of draft content from the old site to the new, and then managing QA, feedback and finalization of all content.
The Benefits
Gaining insight from stakeholders and performing the analysis necessary  to determine the true competition resulted in a breathtaking, mobile friendly online experience for prospective students.
All Wake Forest University School of Business programs saw an increase in engagement after the new site's early 2014 launch. The full-time MBA program alone saw a year-over-year increase of 38% in page views with an average of 800 more visits per month compared to the former site. Contacts, campus visit requests and apply button clicks also increased across all programs.