Overview
Wake Forest University (WFU) is a nationally ranked higher education institution located in North Carolina. Its Center for Global Programs and Studies is one of its many departments that is independently recognized for service to students, for opportunities to further the experiences and education of students, and for offering a wide range of programs and locations for study.
While the study abroad programs were considered some of the country's best for some time, the school wanted to do more to increase the level of participation and ensure that more students were able to take advantage of international opportunities. They contacted Verified Studios in 2014 for the undertaking.
The Challenge
WFU wasn't satisfied with its study abroad program participation numbers, which were hovering around 60-65 percent. WFU set its sights on a 75 percent student participation rate.
Program leaders knew their current study abroad web experience wouldn't facilitate their goal to increase student participation. They also realized they needed to help more students understand that they can study abroad; resources are available to help them afford it; and every student should consider the opportunity.
Additionally, WFU decided it was time to tackle a problem that had been acknowledged, but not conquered: the fact that a relatively untapped demographic existed among their student base. Liberal arts degree majors typically consider studying abroad, but another segment of the student population typically doesn't – STEM (Science, Technology, Engineering, Mathematics) students. While many study abroad programs exist for STEM students, participation rates in study abroad programs are low for these subject areas.
Highly ranked, comprehensive study abroad programs but low participation.
Untapped portion of the student body with lower than average interest.
Out-of-date site without clear tools and resources for programs and financial aid.
The Verified Solution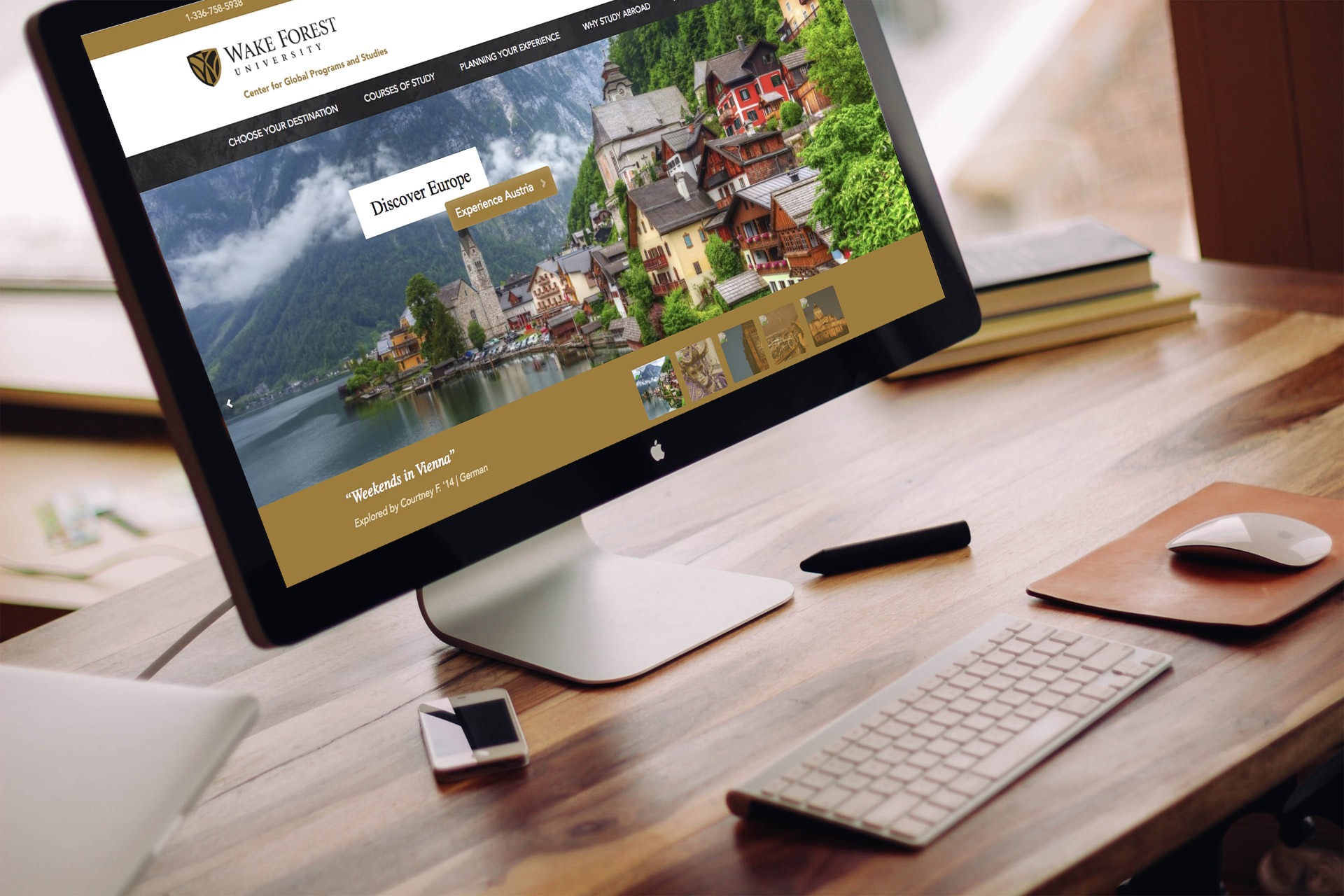 Verified Studios set out to showcase the benefits of studying abroad, tapping into a student's desire to explore, broaden horizons, and experience new places and cultures. We understood that the site needed to nurture students and make them feel that they can both handle and afford to study abroad.
Using our new insights, we redesigned the site, so it helps students through the process of choosing where and what to study abroad. We organized content in such a way that students of all disciplines could quickly and easily find programs they otherwise might have overlooked. We also used gorgeous images of exotic destinations to awaken a sense of adventure and a desire to travel, complemented by an intuitive navigation that leads students deeper into the site's content and encourages them to take action.
After the new site launched, we helped WFU create an internal communications blitz in which we sent all departments relevant subject links, so they could add study abroad opportunities to syllabus and course materials. We also added information and links to department level sites to integrate study abroad opportunities with the ordinary on-campus experience.
Our Process
Collaborate with WFU to determine how to most effectively highlight study abroad opportunities and build a new site from the student perspective, using these insights.
Take a collaborative approach to the project, with ongoing project management to ensure that the many pieces, including a large amount of content and images, worked together.
Interview current and past study abroad students to determine what appealed most to prospective participants, and focus search option on subject, not only destinations.
Promote the new initiative inter-departmentally to bolster awareness and participation, ensuring the interest of students from all subjects to engage with the new web presence.
The Benefits
The newly designed site is not only beautiful and easy-to-use, but also engages students in building connections that lead to participation and commitment. The Wake Forest University Center for Global Programs and Studies website now reflects the high standing that the programs have.
Through this initiative, STEM related programs already account for almost 50 percent of the 'Course of Study' link traffic.
As of November 2016, WFU ranks 6th in the country for percentage of students who study abroad.
The Future Opportunities
WFU now feels secure that their study abroad program enrollment numbers will continue to increase. For the program's future, built-in analytics tracking allows WFU to make decisions on future shifts in recruitment strategy to maximize the effectiveness of dollars spent.
The site template created for the site ensures new programs can be easily added, and offerings can expand without fear of disrupting the present site.
Client Feedback