Overview
The Beacon Project at Wake Forest University is a research initiative aimed at examining moral excellence. The project draws academics from the psychology, philosophy and theology fields around the country to discuss questions such as what makes a person morally excellent; how can we achieve moral excellence ourselves; and how can we teach children moral excellence.
The Beacon Project received a grant in the summer of 2015, and the project was launched shortly after on August 15. Then, entering in a competition for funding, the WFU internal team quickly put together a website to simply have an online presence. Later, when they were looking to make long-term improvements, they contacted Verified Studios as Wake Forest University's preferred vendor for website development.
The Challenge
Those involved with the project at WFU knew how important it was to have an online presence, but they needed a more visually appealing and user-friendly solution that ranked for search on Google. They also tasked us with creating a better way to showcase research and conference information, while also placing an emphasis on the contributors and people involved.
The team had very specific ideas and aesthetic in mind, so it was crucial to work with them every step of the way to ensure we were executing exactly what they wanted and needed.
Finally, our last challenge was to make it easy for the WFU team to handle as-needed changes and updates by themselves. The backend of the website had to be just as uncomplicated as the website itself, and we needed to prepare the WFU team to control their pages without having to contact us every time they wanted to add news or change a website aspect.
Initial Issues
Existing site was not mobile optimized or responsive.
Existing site did not emphasize contributors and their ongoing initiatives.
Existing site was not user-friendly or easily navigable.
The Verified Solution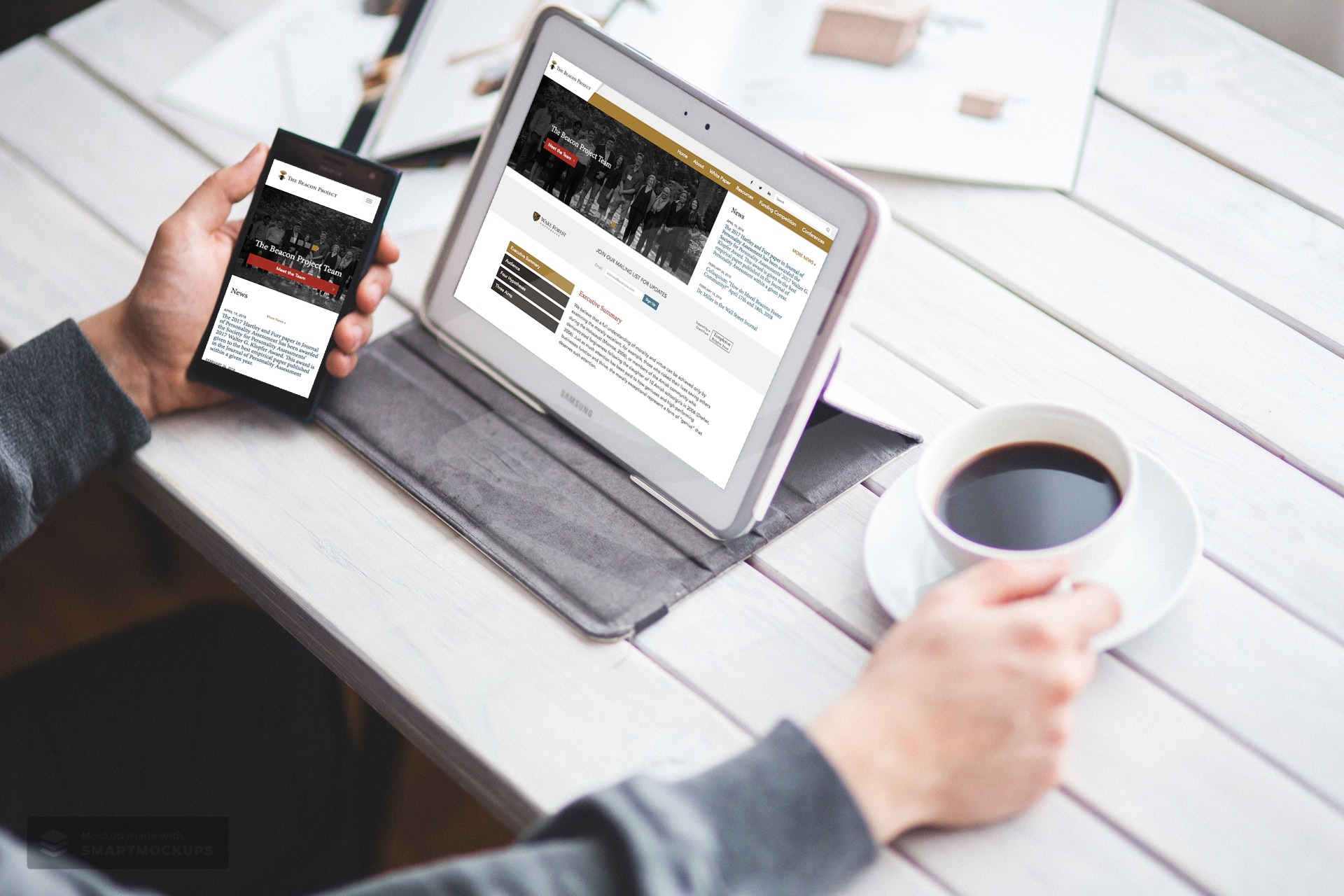 Verified Studios worked together with the team at WFU Beacon Project to design and execute a website that encompassed all of the project's important goals. Using WordPress, we developed a brand new website, migrating some content from the original site. We also created new organization and a cleaner display and utilized UX strategy to bring attention to the most crucial aspects of the Beacon Project.
With the WFU team having specific details in mind, we set up weekly meetings, so they could be involved in every step of the process, and we could keep the project on schedule.
A key need for the team was to be able to make changes and updates to their site as needed. Therefore, Verified Studios carefully documented processes for every possible update that could be made to their site and provided them with a USER Guide Toolkit, so they could make those updates.
Finally, Verified Studios created a logo for The Beacon Project that would match the persona of the new website and be as recognizable as the project itself.
Our Process
Build out a custom WordPress site with content.
Conduct weekly meetings for quality assurance.
Design a logo that is recognizable and memorable.
Create a user guide for WFU team to make updates.
The Benefits
Because Wake Forest University has worked with Verified Studios before, The Beacon Project team quickly got to work with us on developing its new site without much onboarding or administrative hassle, saving time and money.
Those working on the project at WFU came to Verified with examples of other websites they admired, aspects they wanted included and the look they desired for the website. Verified was able to take their idea and, based on discussion, make it a reality.
Weekly meetings between Verified Studios and WFU meant the project stayed on schedule and the WFU team offered their input every step of the way.
The Beacon Project now has a home base, providing a better online experience for its audience. With the website, their team is able to clearly and reliably display recent news, updates on research and information about project members.
The Future Opportunities
The Beacon Project website is self-sustaining, and with the use of the Toolkit, the team at WFU can keep the site up-to-date for as long as they'd like.
Additionally, the relationship between Wake Forest University and Verified Studios means there are many opportunities in the future for website redesign and implementation for the University.
Client Feedback