Build, launch and manage your website effortlessly.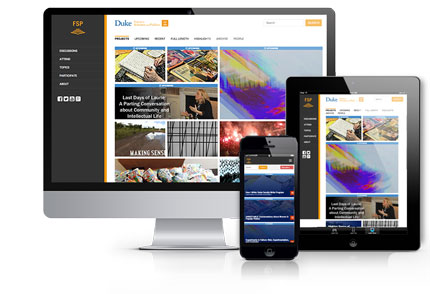 Your website is the digital cornerstone of your public identity. It tells the world who you are and why you are worthy of attention.
Your site is either attracting or repelling potential customers or students. To attract the right customers or students, your site needs to be:
Functional and appealing
Effective and elegant
Simple to manage and enjoyable to use
We collaborate with you to determine your unique needs before taking action. Our design is inspired by your brand and tailored for optimal student engagement, resulting in a website that shines as a functional piece of art while accomplishing your goals.
Verified Studios creates websites that:
Revolutionize Recruitment with Predictive Analytics
Once Verified Studios created a custom Google Analytics configuration to track users' most important activities, NC State University's Leadership in the Public Sector program was able to predict matriculation six months in advance, allowing for their most efficient marketing activities in program history.
Bolster Budgets with Skillful SEO
The Better Business Bureau was getting overrun by Yelp, Yahoo! Local and Yellowpages.com, until Verified Studios crafted an SEO solution to generate 78 million unique visitors — $40,000,000 worth of free traffic — annually.
Satisfy Stakeholders with Deft Design and Copy
Wake Forest University School of Business engaged Verified Studios to upgrade their entire web presence using WordPress. We set the design bar higher by using websites for prestigious landmarks and national experiences as the benchmark, rather than other business school websites.
Connect Communities with Savvy Social Media
Verified Studios leveraged social site design to help North Carolina's eLearning Initiative garner 600,000 page views from 129,000 visitors, with a $0 marketing budget.
Increase Inquiries with Intuitive Navigation
Within nine months of launching a search feature designed by Verified Studios, NC State University's Graduate School site garnered a 5x increase in traffic, with a 4.5x increase in application volume. The custom search solution accounted for 58% of users' time on the site.
Learn more about the marketing work we've done for clients such as Wake Forest University, Duke, NC State University and others:
Please contact us to discuss additional specialized projects.